TOXTETH KINDERGARTEN NATURAL PLAYSPACE
Annandale | Early Childhood
ABOUT THE PROJECT
Australian Institute of Landscape Designers and Managers
2013 – National Gold Award & Best in Category Playspace Design 
Kidsafe National Playspace Design Awards
2012 – Winner, Innovative Design Elements 
Supporting the local community is very important, so when Toxteth Kindergarten asked us to rejuvenate a tired outside space, we didn't hesitate. The brief was clear, it shouldn't be a plastic playground, but a space that would ignite the imagination, offer different activity area's for groups and individuals and most importantly promote natural play products and native plants found in the local area.
Working with the parents group we developed a masterplan, which enables the kindergarten to stage the works, when time and funding will allow. The design was brought to life by Andrew at Timber Creations and we love his mushroom seats, troll bridge, crazy mirror and the enchanted forest.
Cant wait for stage 2 works.
"It's kind of magical that inspires their pretend play."

"We love having picnics and afternoon tea in the forest."
"It is such a beautiful and natural play area where children can explore."

"Wow it's like from Alice in Wonderland…I love the mushrooms."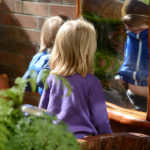 "Let's go to the forest"   "Be careful of the troll" (when playing near the bridge)  "It's a hiding place for treasure."

"I love the wind chimes because they give the children the chance to play with something natural, hear different sounds; not only music but they can also play hide and seek."